After the troubles of 2020, we're probably ready for a little holiday cheer and a healthy dose of optimism, as we imagine the new year before us.
Personally, my heart is full to know that the clients I've worked with since launching Way of Life™ Dog Training will be looking at 2021 with enthusiasm, given the amazing progress they're making with their dogs. For some of these clients, this is the first time they've been able to see a real future with their canine. Such is the magic of designing a way of life that makes sense to the dog… and it all begins with the foundations provided by decompression.
In the previous newsletter, I described decompression as a period of simplicity and structure that allows our new dog the time to trust and adjust. Yet, too many put the cart before the horse and start training and socializing their dogs well before they're decompressed and ready. How long it takes to decompress a dog depends on a host of factors but may take longer than expected. This season's infographic – Decompression Basics – clarifies this essential practice a little more.
Please enjoy the last issue of the year. As always, I greatly appreciate your support and welcome any thoughts or questions.
Wishing you and your dogs a wonderful holiday season and a terrific new year ahead!
Warmly,
~ Souha
This Season's Infographic: Decompression Basics

Reflecting On Our Bond
In this season's reflection, I'd like you to think about the wording that best captures your role or position vis-à-vis your dog.
People vary in the words they use to describe who they are to their dogs.The word "owner" is most commonly applied since legally speaking, dogs are considered property. Some dog advocates believe "owner" objectifies canines and therefore, many prefer to call themselves "guardians" or "parents" ("mom"/"dad") of their dogs. Some designations, such as "leader" or "alpha," speak to status and hierarchy while others are about our role as educators, for example "trainer" or "teacher." Yet others prefer to call themselves "partner" or "friend."
Because words are thoughts and thoughts spur action, I'd like you to reflect on what these different words mean to you. Which ones resonate with you and speak to the kind of relationship you wish to have with your dog, and why?
Is there another word for you beyond these?
Pro Tip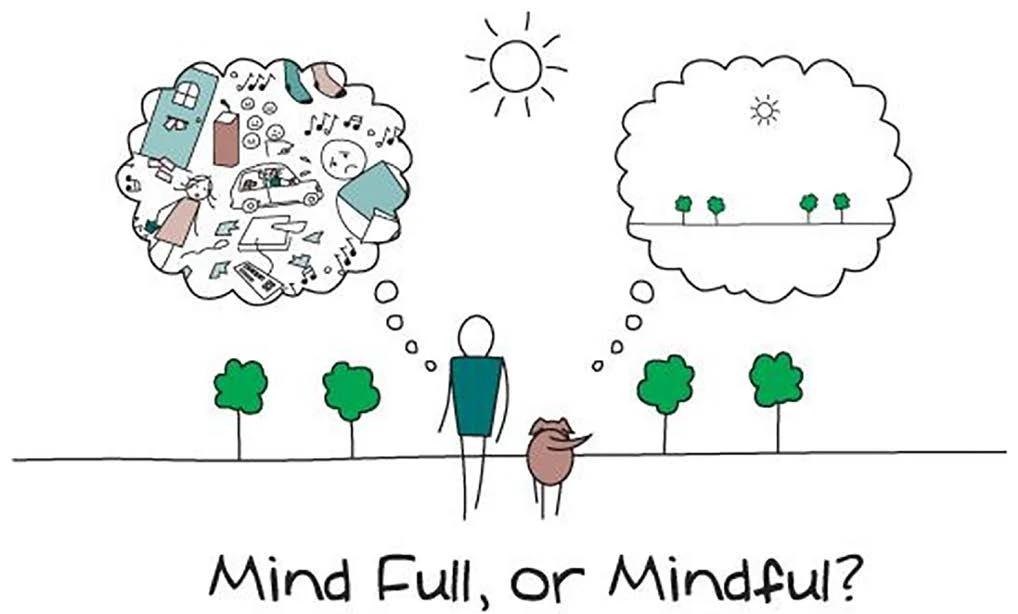 You might have seen this drawing by Henck Van Bilsen, which circulated on social media for some time. The dog is clearly "mindful" of his surroundings while the human is "mind full" of all sorts of things, none related to the present time and space.
Enter this season's Pro Tip: When you are with your dog, be with your dog. Be present and mindful. Watch how the quality of your interaction improves and your connection deepens over time. Be here with this dog right in this moment.
We're lucky to live in an age where mindfulness is finally given its due. Practitioners and researchers across fields, in medicine and business, mental health and education, are increasingly recognizing the value of cultivating mindfulness. Being in the here and now helps us not only survive the pressures of our time but also thrive in an age of nearly constant stress and change.
Mindfulness and meditation often get mixed up. Basically, meditation is the concentrated breathing and stillness practice that helps us be more mindful. In his book Meditation For Fidgety Skeptics, Dan Harris, the news anchor who suffered a very public panic attack on live television, called meditation "the public health revolution of the twenty-first century." And indeed it is, with science backing its beneficial effects.
This holiday and beyond, make it a point to focus on mindfulness rather than get carried away by the stresses of the season. When you are out working your dog, let that be all you do. Silence your phone, tune out the world, and quiet your mind. Set aside thoughts of a past you cannot change and a future you cannot predict, and enjoy the moment with your canine. Their time with us is the only time they have, and we know all too well that they're here for too short a while. Being mindful with our dogs is the only way to make each precious moment count.
Note
Thanks to Henck Van Bilsen for permission to use his terrific drawing, featured in his book Zee Beatty and the Socks of Doom wherein he details the fascinating conversations he had with his beloved dog Mr. Percy.
To order the book, contact Henck directly at help@vanbilsen.help.
Mindfulness is simply being aware of what is happening right now without wishing it were different; enjoying the pleasant without holding on when it changes (which it will); being with the unpleasant without fearing it will always be this way (which it won't).
~ James Baraz
Ask Way of Life™ Dog Training
Q: Will my dog develop separation anxiety when the pandemic settles and we go back to the office?
A: Since the onset of the COVID-19 pandemic, many employees have shifted to remote work, a workplace trend that had existed for some time but became more prevalent. Many people who already had pets relished the opportunity to spend more time with them. Others went and got the cats and dogs they didn't feel they had time to care for with their previous work arrangements.
The rush to acquire dogs during the pandemic lockdown led to the term "COVID puppy" and raised various questions about the fate of these dogs once people return to the office. One commonly asked question is whether the dogs will develop separation anxiety because they've been accustomed to having us around.
Separation anxiety, or extreme fear at being alone and/or separated from significant individuals, is considered a serious matter, especially if associated with dangerous behaviours such as destructiveness or aggression. Separation anxiety can reach such a level as to constitute a non-medical reason for euthanasia.
To deal with this issue, behaviourists use behavioural modification protocols while vets prescribe psychotropic drugs. Separation anxiety is seen as a "condition" inherent in the dog, an illness that has little to do with context or relationship quality. In contrast, I see it as a response, a reaction to a certain way of life. In my mind, there are no protocols or prescriptions that can heal the despair and relational angst that underlie this kind of behaviour. When the human-dog relationship is built on confidence, strength, and independence, dogs will mirror these very attitudes and never come close to developing separation anxiety.
Therefore, my answer to the question of whether dogs will develop separation anxiety once we return to the office depends on what we do while we're working from home. It depends on the lifestyle that the dog has gotten accustomed to, and this includes both our attitude towards the dog and how we live with the dog day in and day out.

If you are at all concerned about the possibility of separation anxiety, please do not wait to get in touch with Way of Life™ Dog Training. Now is the time to begin creating the kind of bond that prevents these anxieties from developing in the first place.
Thank you for your excellent questions – please keep them coming!
Seasonal Suggestions
K9 Indoor Splash Pool
Being an avid swimmer and lucky to have had many dogs who enjoy the water, I've been to more than one canine pool in my lifetime but none quite as nicely set up as the K9 Indoor Splash Pool in Pickering, ON. The venue offers private swim sessions with or without trained assistants, depending on your dog's comfort and skill. The water is kept at around 86 degrees and according to their website "is as close to chemical free as we can safely have it." The sizable pool features an island for the dog to stand on for breaks. Artificial turf on the deck and non-slip ramps ensure that dogs have traction and can safely get in and out of the pool. This winter season, what better than a swim in a warm pool for some solid canine exercise?
Email bookingsatk9splashpool@gmail.com to book your
swim session.
Julia Park Portrait
With holiday festivities around the corner, I'm excited to feature Julia Park of Julia Park Portrait, the talented photographer who took my website's brand photographs. I remember our photo shoot fondly, as we worked to capture my guys and me doing our thing as spontaneously as possible. Julia's journey as a photographer began with weddings, which she still enjoys and does on occasion. Yet, her real passion is for headshots, personal branding, and maternity and newborn photography. Julia's deep enjoyment of the intimacy found in doing portraits and her genuine appreciation of the vulnerability felt by the subject really come through in her enchanting style of photography.
Check out Julia's website: www.juliapark.ca
Follow Julia's account on Instagram: @juliaparkphoto
Tania Costa, Canine Wellness Centre
VT, CCRP, CMT, CAAP, Cert Veterinary Pain Management
Tania is a Vet Tech from Purdue University and a Certified Canine Rehabilitation Practitioner through the University of Tennessee's Veterinary Medicine program. She is also a Certified Animal Acupressure Practitioner through Tallgrass Animal Acupressure Institute and is certified in Veterinary Pain Management. I consider Tania an essential member of our wellness team and more than one of my dogs has benefited from her extensive knowledge. Her insight into canine mobility, fitness, and rehabilitation, especially with seniors, paralyzed dogs, and injured athletes is impressive. Beyond her clinic, Tania is a speaker, evaluator at trials, educator, writer, and the founder of Rehab for Rescues, a charity providing rehabilitation to aid in the adoption of dogs in foster care.
Email appt@caninewellness.com to donate or to book an appointment. Virtual and in-person appointments available.
Paws For the Camera
This December, Bob and I celebrate nine years together. Bob is a Formosan Mountain Dog who was brought here from Taiwan, eventually surrendered to a shelter, and then came to me as a behavioural foster. A few months later I officially adopted him. I'll definitely be sharing more about Bob and all he taught me. For now, I'm grateful to enjoy another Christmas and New Year with him!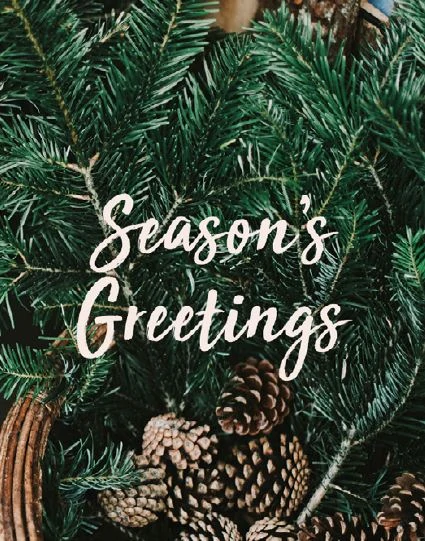 Wishing you and yours a wonderful holiday season and a fantastic new year!
Do you want to know more about transforming your relationship with your dog? Way of Life™ Dog Training is here to help.