We all have our reasons to look forward to winter. Cozy evenings with family and friends. Taking our dogs for romps in the snow. The festive feel of the holidays.
For my guys and I, hiking the winter wonderland is the highlight of the season. The white, shimmering sights and stillness of a landscape dormant but very much alive are enough to make us pause. We draw a deep breath of oneness with nature, grateful that we get to share the magic with our dogs.
If you recall, the Summer 2021 issue was devoted to hiking as an outstanding activity for both humans and canines. In this winter edition, I continue to emphasize the emotional and psychological benefits of hiking with dogs while noting the need for continued precautions. Although there are fewer people on the trail, which is valuable when we're working with shy or reactive dogs, we must still manage those encounters carefully. I hope you'll find Managing Trail Encounters – Part 2 in the Pro Tip helpful in that regard. As well, this season's infographic – Hiking with Dogs Checklist ~ Winter Edition – will ensure that you're covered on your trips. It includes the Off-the-Grid certification, an outdoors pet first aid course I highly recommend.
At Way of Life Dog Training, it's been a thrill graduating a few longtime clients and onboarding new ones, including a beautiful Border Collie who hasn't left his house in a year and a timid German Shepherd pup that we're getting restarted on correct foundations. Don't forget you can grab your copy of my puppy primer if you happen to have a youngster at home too.
In other news, I offered my first virtual class titled A Bond Like No Other: Becoming the Person Our Dog Needs Us to Be to a select group of clients and associates. As a professor, there is nothing I enjoy more than sharing information with enthusiastic participants. I had a blast, and according to the feedback I received, everyone else did too. Participants welcomed ideas on improving their relationships with their dogs and enjoyed sharing their experiences with others. I plan to offer this class and others in the near future, so stay tuned! In the meanwhile, I hope the testimonials below inspire you to join me when the time comes.
In closing, I want to encourage you to forward this newsletter to any friends who are interested in pondering new approaches to raising sound dogs. The more the merrier!
Until then, wishing you and your loved ones a holiday of joy and wonder. See you again soon!
Warmly,
~ Souha
Hiking With Dogs Checklist ~ Winter Edition
(Click Here to Download the PDF)

Praise for the Virtual Class
A Bond Like No Other:
Becoming The Person Our Dog Needs Us To Be
"Souha is an excellent teacher and I really enjoyed hearing what she's learned about dogs and training. What I liked most was that she encouraged me to take time and really think about my relationship with my dogs. As a result of her insights, I realized I still have some work to do… on me! I've embraced the challenge and I'm already seeing improvements. Our walks are more fun for all of us now… and we're just getting started. I look forward to more course work with this engaging and knowledgeable instructor."
~ Sandy R., East York, ON
"True to its name, A Bond Like No Other teaches you to understand your dog's needs, as well as your own, so that you can create a bond based on trust and understanding. Whereas other trainers may teach tricks and 'quick' fixes, Souha's class forces you to reflect on your relationship with your dog and emphasizes solid foundations and genuine transformation. Souha's passion and experience are evident as she provides you with knowledge and tools to be the person your dog needs you to be. I would recommend this class for anyone that is new to dog training or is struggling in their relationship with their dog."
~ Alex K., Barrie, ON
"After completing the Bond Like No Other class, I would recommend it without hesitation. I was impressed with the instructor's depth of knowledge on the subject of building better relationships with our dogs. The material provided was insightful, helpful, and aesthetically appealing to boot. I especially enjoyed the camaraderie amongst all the participants that formed as a result of everyone sharing their stories and their thoughts throughout each lesson. I'm very fortunate to have had this experience."
~ Sue V., North York, ON
Reflecting On Our Bond
October 10 was World Mental Health Day and we would be remiss if we didn't take a moment to acknowledge the psychological and physical health benefits afforded by life with dogs. For thousands of years, through various ways and means, dogs have extended to us care and companionship like no other domesticated animal. Over the centuries, dogs supported us in countless ways – in our homes, on our farms, and on battlefields, and helped us survive as a species.
Fast forward to today, most dogs are primarily companions, active companions perhaps, but still living in a non-working capacity. It also appears that their role has evolved into caring for our psychological needs. We hear dogs routinely referred to as "emotional support animals" and "furry therapists," especially during the pandemic days of lockdown and isolation.
There are two ways in which dogs can act as "furry therapists." The first is constructive and positive for human and dog while the second one isn't.
In the first scenario, raising and training our dogs is a positive challenge that saves us from the darker sides of ourselves. The desire to do right by the dog at every level imaginable becomes a worthy endeavour that gets us out of our heads. The sense of obligation, enthusiasm, and energy we feel getting up each day to exercise, train, and socialize our dog inevitably spills over onto our own mental health. We work on becoming a better person so that our dog can be the most sound, strong, and spirited dog he can be. There's no room to be anxious or depressed when this is the kind of motivation guiding us.
And then there's the second scenario that's negative for both human and dog. In this case, the dog is genuinely treated as therapist. Thus, we unload onto our dog our emotional baggage, need for attention, and craving for affection, forgetting that our dog did not choose this relationship. Of course, our dogs are loving and loyal, and they're happy to be there for us, but to what point?
And at what cost?
I met a man in a parking lot once where I was working Bruna. He asked if his dog could meet her. I'm usually not one for allowing meetings with novel dogs but then I glanced over at his dog, an older, overweight, and sad-looking little dog. The man called him over several times, but the dog, named Toffee, wouldn't move.
The man shared that he'd had a rough couple of years with the illness and subsequent passing of a close family member. He had tears in his eyes when he described how Toffee had been such a friend during this time. It was clear the man had felt better through his ordeal for having had Toffee. But I could not help but wonder about the toll that the experience had taken on the dog. There was no joy in Toffee's demeanour. To me, he appeared frozen in time, burdened by human-grade pain he could empathize with but not necessarily understand. The
weight of that load had become physical, adding to the laboured movements of his overindulged body.
In this season's reflection, I invite you to consider whether your dog has been some kind of therapist to you. What type of therapist has he been? And what's been the effect on him to have performed that role for you?
As I see it, we have a duty to protect our dogs' mental health, in part by shielding them from our human commotions. This can be as simple as grieving in private, putting the dogs away if we're not feeling well, taking disagreements with family members out of the room, or making a genuine effort to be upbeat even if we're not really feeling it.
Because the health and joy of our dogs are worth it.
The point of this reflection is that love calls on us to take charge of our health, physical and mental, so that we can be there in the best of ways for those who depend on us.
Especially our dogs.
Pro Tip
Managing Trail Encounters ~ Part 2
In an earlier issue on hiking (Summer 2021), I offered tips on how to deal with encounters on hiking trails, bearing in mind that with a new dog, the dog is always leashed and interaction with unfamiliar people and dogs is restricted. Recognizing that there are times when such trail encounters will be difficult to avoid, the earlier newsletter detailed three strategies:
Avoiding encounters entirely by going the other way, taking wide berths etc.
Stepping aside to allow people and dogs to pass, while keeping our dog focused on us with food and/or verbally.
Walking through in close quarters, only if we feel the situation calls for it and our dog can handle the direct contact.
To these I add a fourth strategy: Politely asking for space to walk on through. You have my complete permission to ask for what you need, in pursuit of your dog's best interest.
Here's the thing though, we do not need to justify ourselves nor invite unnecessary conversation by explaining why we need some space. We do not need to answer questions or comments about whether our dog is "friendly." I know it can be difficult to speak up sometimes, but we have every right to ask for space from people and their dogs. In fact, when handling dogs of any kind, with or without behaviour issues, asking for room to move safely is the responsible thing to do.
Conditions that require requesting space include:
There are people lingering on the trail.
It's not possible to go back around.
It's not workable to go another way.
We have a dog who isn't quite ready to walk near a crowd.
In addition to evaluating your dog and situation, consider the people in front of you. Do they look like they can handle a polite request? Remember to review all contingencies before embarking on a hike with a new dog and/or a dog with reactivity issues you're working on. Calculate the likelihood of it being a positive experience overall. Factor in:
The weather
The trail
The people and dogs who frequent that trail
The time of year
You
Your dog
Your bond at this juncture
Ask yourself whether avoiding the situation entirely might be the better choice at that point in time. Considering the many healing properties of hiking with our dogs, analyzing contingencies ahead of time is well worth it.
Note: Stay tuned for Managing Trail Encounters – Part 3 in an upcoming newsletter, on dealing with loose dogs on hiking trails.
"When a man's best friend is his dog, that dog has a problem."
~ Edward Abbey
(American author, essayist, and advocate for the environment)
Ask Way of Life™ Dog Training
Q: I have a puppy who will be 5 months old soon. He is doing well but for his safety I want TOTAL RECALL.
A: You are right to want to ensure that your puppy recalls for many reasons, including his safety and of course that of the public. There are many distractions in life, and we need to train our dogs to recall quickly and without hesitation. It's no wonder recall training is such a standard aspect of dog training.
With that said, let me start by sharing a story with you. I attended once a recall class with my dog Kizzy, offered by a school that prided itself on being science-based and using positive reinforcement methods. As the class progressed, we discussed the variety of tasty treats that could be offered to reward a dog for coming to us – from dry low-value treats to human-grade cheese strings, chicken breast cubes, meatballs, and recipes for various homemade treats. It was beginning to sound like a culinary arts class more than dog training.
In the practice part of the class, we would stage "losing" our dog, being separated from it, or letting it get distracted, and then calling it. Kizzy and I couldn't quite do these exercises, as she wasn't all that interested in leaving my side. When we did restrained recalls whereby the instructor holds the dog, the handler walks away, and then calls the dog, Kizzy came quickly and confidently. Yet, much as she was happy to get the tasty food, it was clear that wasn't her primary motivation.
Which brings me to your desire for total recall. Without relationship, there is no recall, much less total recall. We need to ask why we're working so hard teaching a dog that supposedly loves us to come back to us. Why would we need endless recall training with an elaborate menu of treats if our dogs cared to stick around?
My memory from that class is that we barely touched on relationship and bond. The overemphasis on tasty treats was justified by the notion that "dogs don't work for free." This is to some extent true but if I've done my work correctly with my dog, my dog cares to be with me, and we enjoy each other's company, does he still need to be paid? Would it still be "work" staying attentive and close? If I've done my foundation work with my dog, correctly managing fundamental way of life elements such as the dog's schedule, activities, and socialization and relating to it in a psychologically healthy way, then I have a dog that cares to stick around. Teaching recall is a breeze because we never have a dog that doesn't want to come back.
You'll hear people say that you never know what could happen to distract the dog and therefore you need to relentlessly train the dog on recall. Recall involves some training, but it is fundamentally about the relationship with the person doing the recall, and what they represent to the dog.
You'll also hear that dogs should never be allowed off leash, as we just never know what could get them distracted. That's a topic for another issue but suffice to say for now that part of good foundation work is raising a dog that is calm and thoughtful, one that could get startled and a little distracted but retains the capacity to think and pay attention to us. Training alone can't accomplish this. Look no further than relationship because only a healthy bond ensures that total recall.

Thank you for your excellent questions – please keep them coming!
Seasonal Suggestions
K9 XFit Virtual Conditioning Class
by Canine Wellness Centre
You might remember Tania Costa, owner and founder of the Canine Wellness Centre, featured in the Winter 2020 issue. Tania is one of my go-to people when it comes to canine fitness so when she offered her very first online class, I signed up without hesitation. Prompted by the restrictions created by pandemic lockdowns, Tania decided to create a five-week virtual class to cover basic mobility concepts, share ways of avoiding injuries, and demonstrate conditioning exercises that can be done at home. Equipment includes aids like garage mats, cardboard boxes, towels etc. Each week includes theory and hands-on components, and describes warmup and conditioning exercises for each body part:
~ Week 1: Introduction
~ Week 2: Knees
~ Week 3: Shoulders
~ Week 4: Iliopsoas (with bonus guidance on
pronunciation!)
~ Week 5: Core
What I found pleasantly surprising about practicing the stretches and exercises assigned each week is that they weren't only physically challenging, but also provided much fun and mental stimulation for both human and dog. Altogether, the class offers a great way of learning about our dogs' amazing bodies, staying fit, and having fun year-round – especially over the winter months.
Email appt@caninewellness.com to find out more.
Brandon Rohrer, Financial Advisor
Living with dogs is fulfilling in ways that we wouldn't trade for much else in this world. At the same time, providing for our companions can be an expensive proposition. In between the initial costs of getting a dog, the basic charges of vetting and proper nutrition, and expenses associated with stimulating and socializing our dogs, we're looking at a small fortune. For many of us who enjoy hobbies or sports, add the cost of equipment, classes, transport, and trialing. As our dogs age, their medical care costs can increase and as we age, we might have to make provisions for their care in our wills.
In the spirit of doing things better in the new year, I can't recommend Brandon Rohrer, financial advisor, enough. Brandon says he "was chosen" for this profession and few things excite him as much as helping people get a handle on their assets. Having grown up around a family-run boarding kennel in southwestern ON, Brandon gets the joy of living with dogs but also the responsibilities. He knows that providing for our dogs in the best way requires that we understand and manage our finances.
To help you get started, Brandon created a free "Staircase to Wealth" video, which you can watch here: https://bit.ly/3dvyqHd
To schedule a complimentary session with Brandon, email: brandonrohrer.advisor@gmail.com
Maple & Cedar Therapeutic Treats
Named after Maple the dog and Cedar the "feline queen," Maple & Cedar are manufacturers of therapeutic treats for both cats and dogs. These chunky and soft treats include a variety of natural ingredients made right here in Canada, including non-GMO hemp seed oil, known for its healing properties. The recyclable packaging includes helpful information about the product and provides feeding guidelines. Varieties for dogs include:
~ Everyday Health Boost, with ingredients such as non-GMO hemp seed oil and protein, EPA, and DHA to enhance energy, strengthen the immune system, and reduce inflammation.
~ Stress & Anxiety Buster, with ingredients such as non-GMO hemp seed oil and protein, chamomile extract, and l-theanine to reduce stress, promote relaxation, and boost the immune system.
~ Happy Hips & Joints, with ingredients such as hemp seed oil and protein, glucosamine, and chondroitin to strengthen joints and tissues, reduce inflammation, and provide pain relief.
Please speak to your vet about using Maple & Cedar treats on top of any medications. Note as well that these treats are not for dogs or cats under 12 months of age.
To shop for your dog:
https://mapleandcedar.com/collections/dogs
To shop for your cat:
https://mapleandcedar.com/collections/cats
Paws For the Camera
Meet Bean the Shi-Tzu/Havachon mix and my client Ellen, the force behind him. Ellen didn't have much experience with dogs but had dreamt of having one since childhood.
Finally, she'd settled on the right breed for apartment living, saved up enough for a puppy, and read and researched all she could. Still, she found herself at a loss about what to do once she brought Bean home. She'd had him for three days when we spoke and was in tears when she described him as agitated, nippy, and averse to her attention and affection. Ellen was heartbroken, thinking he didn't love her.
I paused before saying, "He doesn't know you yet."
I know how much these words have impacted Ellen because her stance almost immediately shifted from one of wanting the dog to love her to focusing on rearing a sound and healthy dog. In the months since we started working together, Ellen has raised a happy, playful, and outgoing companion who has, among other things, coped well with losing one of his eyes. We couldn't be prouder and wish them continued success in the new year and beyond.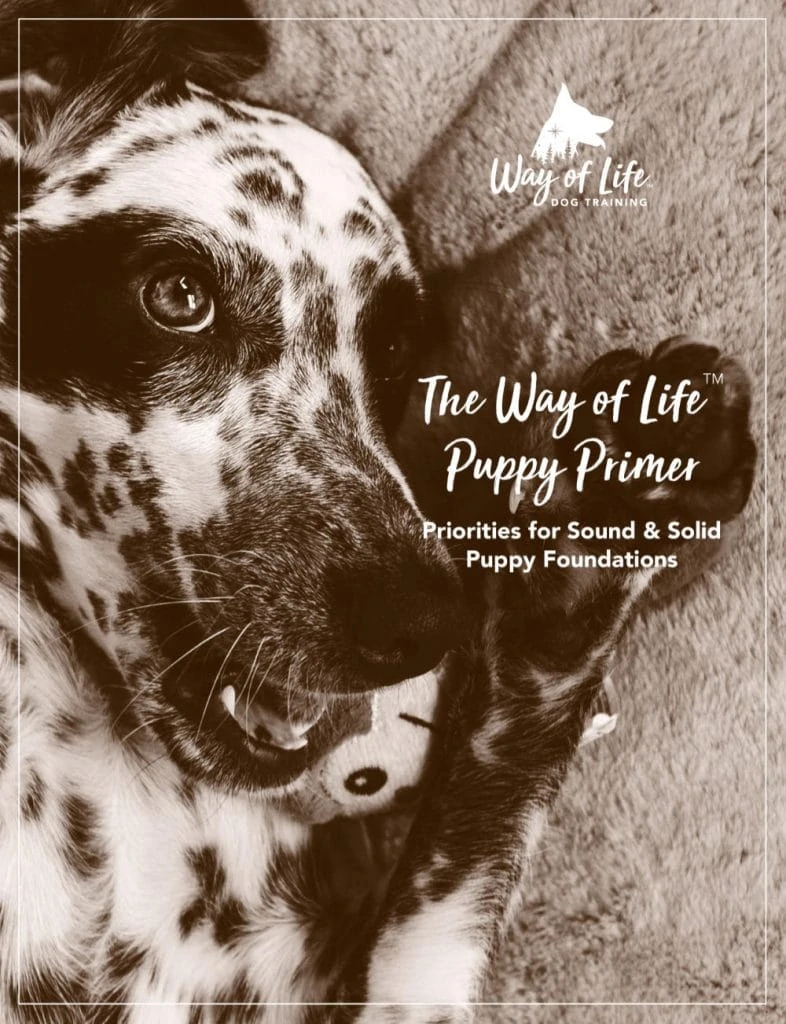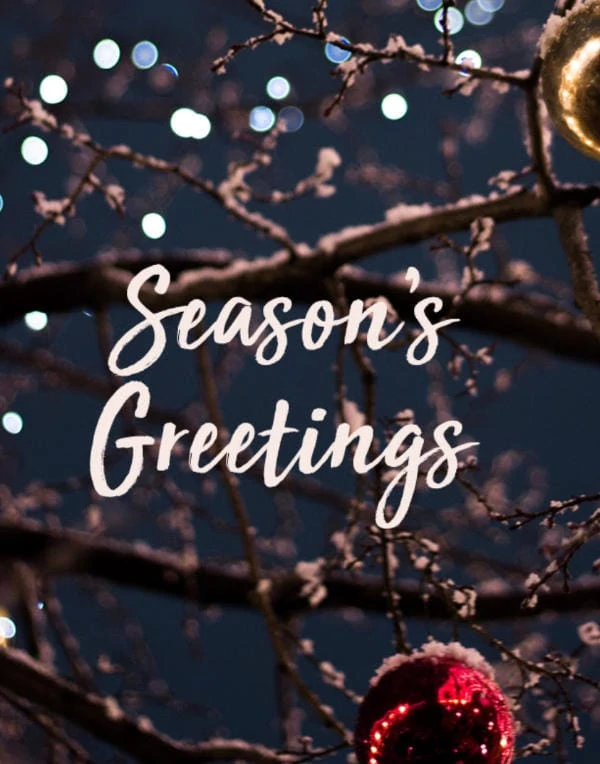 Wishing you and yours a wonderful holiday season and a fantastic new year!
Do you want to know more about transforming your relationship with your dog? Way of Life™ Dog Training is here to help.