My students and I had an incredible time at the September seminar. We had nearly perfect weather, a wonderful space to work in, and of course our canine compadres who made us laugh and cry.
For those familiar with the Way of Life method, we had students just getting their dogs started at Foundations (Stage 1) and more advanced students transitioning into Exposure (Stage 2). Indeed, the Way of Life method does things according to a dog's stage of development and the strength of our relationship. When I have a strong bond with a dog, I can do things, go places, and engage in activities that I would not recommend necessarily when we are first getting started with a dog or with a dog experiencing behavioral problems.
In my upcoming book, The Way of Life Method, I talk about our mindset toward dogs as well as down-to-earth and practical aspects of our life with them, across the three stages, the third one being Integration (Stage 3). Check out below the endorsements already coming in from rescue organizations, trainers, and veterinarians in our community.
The book will hit the shelves on October 19 and will very soon be available for pre-order in digital and print. You'll be hearing from me as soon as that happens!
Here is a preview of the events coming up, with more detail below…
In-Person Events:
– Saturday October 21: Meet the Author & Book Signing at Unique Books Inc.
– Sunday November 5: Meet the Author & Book Signing at Rens Pets
Virtual Events:
– Thursday October 19 Launch Day: Live AMA on Zoom for Book Pack members
(BTW there's still time to join my growing pack of early readers and reviewers! Go to my author page to sign up!)
– Thursday October 19 Launch Day: Facebook Live celebration
– Sunday October 29: Webinar – Introduction to the Way of Life Method
At the most basic level, the Way of Life method is about embracing change so that our dogs can change. It is no coincidence that this book should be born in the fall, a season that so symbolizes letting go, transformation, and renewal.
In Reflecting on Our Bond, I invite you to look beyond what your dog is showing you and to see in your mind the change that is possible.
In Pro Tip, I define decompression as essentially the process of helping dogs adjust to the changes in way of life necessary for their recovery.
In Ask Way of Life, I respond to a reader's question about transitioning and integrating a new puppy with the existing adult dog.
This October, I hope you find the time to snuggle up with a warm beverage, your dogs, and of course my newborn book.
I wish you a wonderful Halloween, Canadian Thanksgiving, and all the things that make fall in our country so heartachingly beautiful.
Warmly,
~ Souha & Dogs
PS: Few things make me as happy as readers telling me they've forwarded this newsletter to people they know. Please encourage your contacts to sign up right here on my website!

PPS: The Way of Life method is asking us to change so that our dogs can change. Join me at the events coming up and find out about a unique method that could redirect the course of things for you and your dog for good.
Praise For The Way Of Life Method
It's refreshing to see a book about dog behaviour that does not focus on training but reveals a deeper understanding of their psychological condition and needs. The Way of Life Method shows the importance of understanding a behaviour from the dog's perspective in order to correct it. Dr Ezzedeen's straightforward approach is designed to build a foundation of trust and confidence for our dogs to enable them to live their best lives. All dog lovers should read this book.~
~Dr. Ian Buffett DVM
(Veterinarian)
Souha has a sincere appreciation and understanding that dogs know, so very well, how to be a dog and in order for us to enjoy them at their best we need to listen to what they are communicating to us and our training be guided by this source. She provides many common examples of problems that people run into with their dogs then sets out a detailed plan for the owner to discover what the dog is trying to relay to their family and then what needs to be addressed in order for both the dog and owner to move forward in the most positive and beneficial manner. The owner has a responsibility not to change the dog from being a dog but to appreciate the animal and design the best strategy for an empathetic relationship to blossom between the family and their dog.
~Susan Buttivant
(Award Winning Breeder, Author, Dog Trainer, & Canine Sport Instructor)

Down to earth and easy to read. For every person who has ever had, and currently has a dog in their life, and will always have a canine in their life, this book is a must read. The author guides us through a beautifully thought out process of acceptance and forgiveness, involving our relationships with the canines in our lives. We can redeem our past training and relationship errors and bonds, it's not too late. This book is the perfect tool of guidance the dog world needs, complete with a reflection area after each chapter. The author strives and succeeds to be fair, in judgment of breeds, rescue dogs, and dogs that are struggling with mental health behavioral issues. A must have for every person and their dogs, this is a read that will change our world!
~Deb Stanton
(Psychic Medium, Medical Intuitive, and Animal Communicator)
In this book, The Way of Life Method, author, dog trainer, and coach Souha Ezzedeen shares with us her wide and rich experiences in dog training. Not only does she offer better techniques to train our dogs to become better pets but also
helps us understand the behaviour behind proper training. The author helps us build a much healthier relationship with our dogs, stressing the importance of rearing and raising our dogs rather than teaching and training skills. The Way of Life Method expands on the importance of proper socialization and understanding drive development across stages. The premise of the entire book is based on the importance of establishing our bond with our pets, bonding being the goal and the focus of any form of training. A "must read" for any pet owner looking to understand the relationship between them and their pet and the tools to raise a
happy and well-adjusted dog.
~Dominique Rousselle
(Co-Founder of Dogs Without Collars Rescue and former Vice President of the Toronto Humane Society)
A thought-provoking resource for anyone who owns a dog, and one which would be particularly enriching for anyone who is contemplating a new canine companion. Relationship based and scientifically backed, the material flows seamlessly into the practical application of the underlying theories, making it eminently readable! If I were still breeding dogs, it would definitely be a book that I would recommend to potential purchasers.
~Sue Neave
(Canine & Equine Therapist, Author, Artist, & Wellness Educator)
Souha has a deep understanding and knowledge of our canine friends. In this book and in her seminars, she asks us to hold up a mirror to take a good look at ourselves and our own ways of being first. She asks questions to make us think about ourselves so we can relate how our dog sees us and the world around them. Souha shares her own experiences in a fluent and direct way that allows us as the student to visualise, identify with, understand, and take steps toward a more balanced relationship with our dogs. She then provides us with great, meaningful tools to help us take that relationship to a whole other level. This is a "must read" book for anyone considering adopting a dog into their family.
~Shari Seymour
(Canine & Equine Therapist, Author, Artist, & Wellness Educator)
Upcoming Events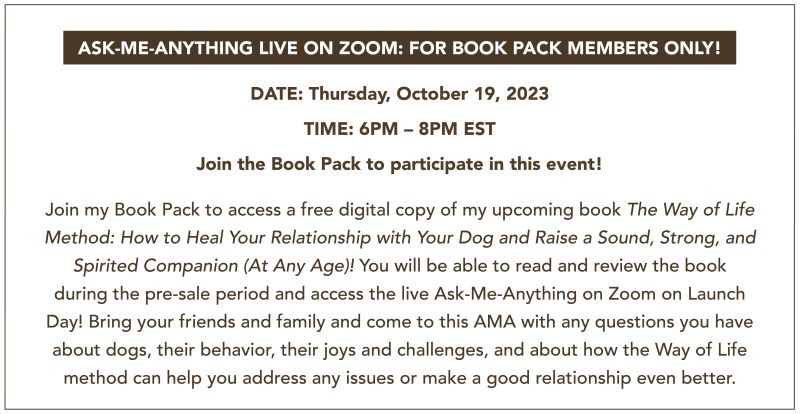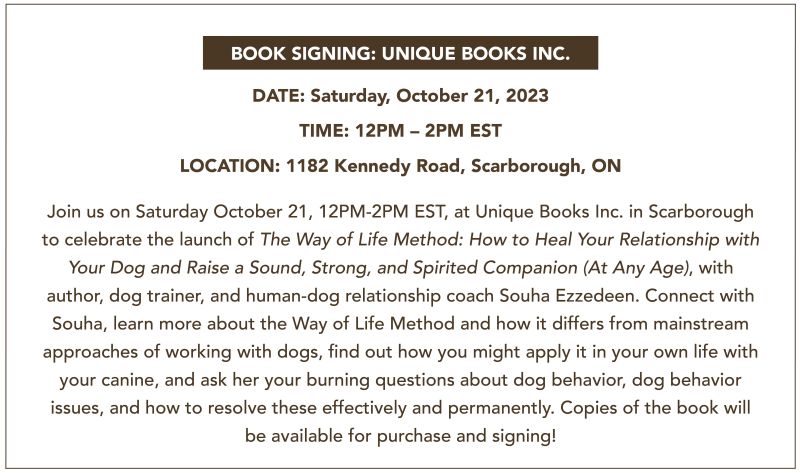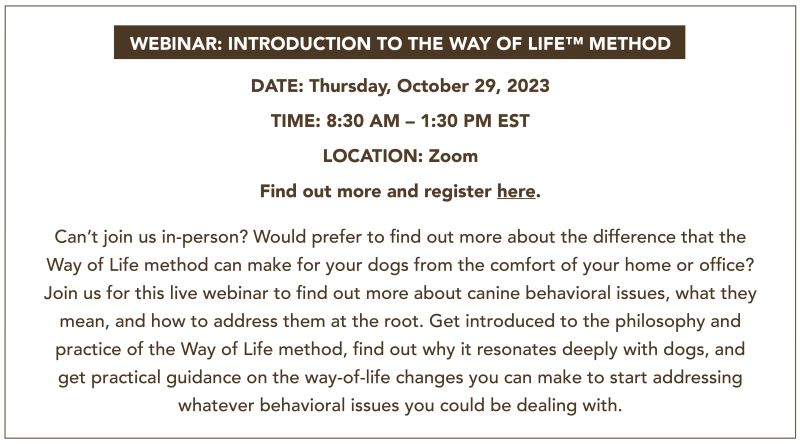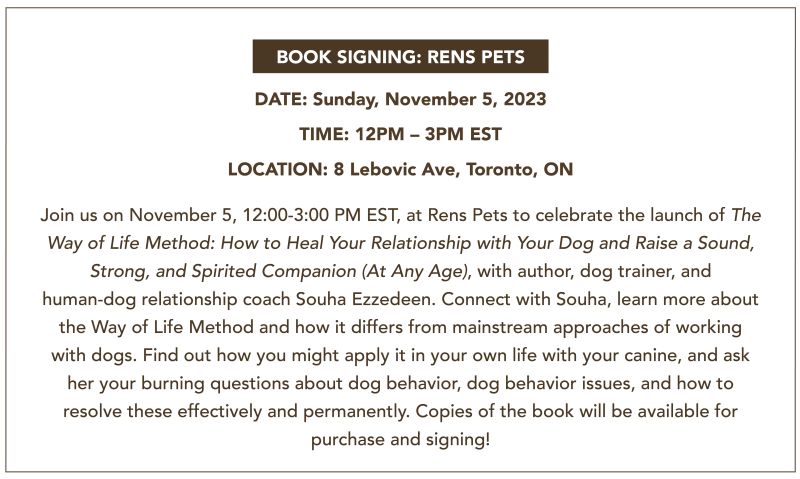 Reflection On Our Bond
Chaning Our Minds About Our Dogs
Treat me as I am,
and that I shall remain.
Treat me as I wish to be,
and that I shall become.
-Karl Schmidt, author, photographer, and animal welfare advocate
When working with people and their dogs, I am often more concerned with whether the people can change than whether the dogs can. Given a healthy way of life, one suited to the maturity of the dog and the stage of our relationship, I trust in dogs' incredible capacity for recovery. But it's getting people to see and think about their dogs differently that can be challenging.
This is the part of my coaching where I sweat and earn my money, helping people relinquish old patterns, sometimes against great inner resistance, and realize that the dogs are in fact waiting for us to get our act together and not the other way around.
This is the part of my coaching where I sweat and earn my money, helping people relinquish old patterns, sometimes against great inner resistance, and realize that the dogs are in fact waiting for us to get our act together and not the other way around.
Too often in the world of anxious and reactive dogs, we think that anxiety and reactivity are part of our dogs' psyche. So we feel sorry for them, coddle them, and try to protect them from pain, not realizing that it's the very pity, coddling, and over-protectiveness that is causing the dogs such angst.
At the seminar this past weekend, one of my students experienced an emotional moment, feeling bad for her dog who appeared "distressed" in the car as she attended the seminar. The dog was contained in the car, tethered safely, and in mild and shady conditions but he was not taking kindly to the situation. I saw a dog rebelling against the structure expected of him but one capable of riding out the stress. In contrast, his owner saw him in distress and felt she had to do something about it.
Thinking of our dogs as being "in distress," when there is no objective reason whatsoever for them to be, suggests that we think our dogs are weak, fragile, and incapable of riding out a challenge. Imagine a situation where you are in a close relationship with someone and they think of you as being weak, fragile, and in need of constant support and assistance.
Would that make you feel loved or limited?
Would that make you feel supported or smothered?
Dogs know their own strength. So reflect on the torture they must feel being perceived as weak and powerless. I don't know about you but I would run from this kind of relationship with all I have. Dogs sometimes do run, but more often, they exhibit dysfunctions as a means of dealing the best they can with being seen for what they're not.
Part of raising great dogs is not just doing physical things; it also involves aligning our minds with the process. This means seeing our dogs not just for how they are now, but ultimately for who they wish to be, and no dog wishes to be anxious, reactive, or aggressive.
Upon concluding the last exercise of the day, that same student lost her dog who'd broken out of his collar, as she was making her way out of our training space. The potentially human-aggressive dog came to me; I ignored him while staying put. He went to Bruna lying down on the ground across from me; she paid him no mind. He ran around some, with everyone keeping themselves and their dogs steady. Calmly, my student was able to call her dog back to her, collar him, and lead him out safely. This showed us and especially her, that she had much more with her dog than she gave herself credit. I knew that her mind had already shifted or this would not have happened, and the day could have ended very differently.
For the dogs to change, the change needs to happen in us and in our minds. We need to be not just hopeful but certain about the possibility of change. We need to believe in our dogs' capacity to handle stress and not shield them from experiences that help them grow. We need to be the ones holding visuals in our minds of our dogs being sound, strong, and spirited.
There isn't an animal or plant that won't thrive and go as far, high, or fast as it can, given the right resources. Dogs don't put limit on themselves so let's not impose and project our own fears and limitations upon them. Instead, let us lose all labels and preconceived notions, and free our dogs and ourselves in the process.
Pro Tips
Decompression is one of these concepts that's gained traction in the world of dog training but I've yet to find a decent definition of the term. There is consensus that decompression is what we do with a new dog, a rescue especially, at the beginning – for example, taking things easy and postponing socialization.
It is true that how we navigate our first few days, weeks, and months with a new dog sets the tone for our relationship over a lifetime together. This is true for puppies and adults and regardless of the dog's breed or background. Often, that lack of decompression at the start is to blame for problems developing down the road.
Decompression entails holding off for a while on all the training and socialization that we're normally told to do. Instead, we create a simple yet structured environment in which the dogs can begin to settle, build confidence, and bond, free of hasty pressure and expectations. In time, they become ready to socialize and train, trusting in their humans.
In the Way of Life method, decompression refers to the unhurried and thoughtful process of transitioning a new dog into our home. But decompression also applies when dealing with a dog with behavioral issues; it is how we reset the relationship with that dog.
This reset will involve a shift in way of life from the old dysfunctional one to a new life oriented at raising a sound, strong, and spirited dog. Even if the intention behind the change is good, that does not mean that the dog will take well to the change. This is especially true if our past with this dog was fraught with tensions and conflicts or if that dog is new to us and has no reason to trust just yet. We have little credibility going into this change, giving the dog even more of a reason to be suspicious.
So when you start applying some of the elements of the Way of Life method at Foundations for example, restricting freedoms you once gave, regulating where once you were lax, detaching where once you were emotionally attached, rolling back certain social experiences and so on – these will all be felt by the dog who will challenge you as a good dog should. We've not done this before so why should the dog just go along? Here's the thing, we do want the dogs resisting us actually – this is not an animal that should just say "Yes" to things. A change of environment such as the one advanced by the Way of Life method's process of building foundations is challenging, but one we help the dog ride out, building the relationship material that we had lacked before.
Note
For a past issue of this newsletter focusing on decompression, click here.
Q: I'd like to find out more about how you might be able to assist me, either virtually or in person, as I welcome a second dog to my household. The new puppy is coming home this Monday and I have a three-year-old dog already at home. I'd like to make this transition as comfortable as possible for both dogs. My current dog is no longer in crates and is a lovely family dog though I could use help with a couple of his behaviors (digging being one). The new puppy is already crate trained and I plan to maintain that and keep the dogs on separate floors of the house to begin with. Please be in touch if you're interested and available in helping me. Thank you!
A: Thank you for reaching out to us ahead of your puppy's arrival! Too often, we get calls after the fact and usually when things are starting to go down the rails. So congratulations on the arrival of your new puppy and being proactive with the transition because change is not nearly as easy on dogs as we think. Unless they are in a solid relationship with someone who has raised them to be sound, strong, and spirited, change often brings to the surface issues brewing beneath. Transitions matter for both the new pup and the existing dog and you are right to plan your introduction consciously and proactively.
It's also great to hear that your existing dog is generally well behaved except for the issues that you noted and could use some assistance with. When it comes to what appears as isolated issues, I take a different stance on things. I see issues, big or small, as reflecting a situation. I treat it as such until all aspects of the way of life are examined including managing space and boundaries, socialization, developing drives, and the handler's relationship with and mindset toward the dog. Any time I am trying to work on a dog's issues, I try to set aside ideas of the dog being "lovely" and focus on the objective reality.
The last idea I will share here is more practical and pertains to your dog no longer being crated. I hope you might consider the relationship between the lack of structure created by not crating anymore and the behaviors you could be dealing with. Digging might appear like a minor concern but there's nothing like a change of environment, in this case the arrival of a new puppy, to make minor concerns worse. Therefore, I recommend you reintegrate the crate and begin stabilizing the existing dog before you bring Junior home. This will make the management of the two dogs as separate elements easier, improving the likelihood of a successful integration.
To find out more about introducing a new pup and raising a sound, strong, and spirited pup, see our free Puppy Primer: https://wayoflifedogtraining.com/puppy-primer/
Good luck!
Interested in more answers to client questions?
Follow our Facebook pagefor the Weekly Q&A.
Here are a few highlights from last month. Click for the full article on Facebook:
Hitting the Jackpot with a New Rescue
Difficult Doodle and Baby on the Way
Thank you for your excellent questions – please keep them coming!
Seasonal Suggestions


E-transfers
janniegee@rogers.com
PayPal Donation
https://bit.ly/3PVszyO
To find out more, check out the Team Chelsea Facebook Group
https://bit.ly/3Zy5Vja
TEAM CHELSEA LOST PET SEARCH GROUP
Last month, a client dog in my care went missing. In all the years of boarding dogs, this was a first for me. I will share the harrowing details of the event later, but suffice to say for now that it was thanks to the incredible volunteers at Team Chelsea Lost Pet Search Group that Skylar was located safe and sound, a few hours after her disappearance.
I happened to be at the studio recording my audiobook, the dogs crated in the van, under the shade of mature trees, windows down and doors open, taking in the sights and sounds of the beautiful country property. When I stepped out for a break and made my way to Skylar's crate, I was shocked to find it empty. It took me a moment to figure out the lock malfunction that had occurred and when the reality that Skylar was missing sunk in, I began frantically calling. Realizing she was nowhere near, I drove out to look for her. In the meantime, our host contacted Team Chelsea who promptly posted about Skylar and mobilized their volunteers.
Founded in 2011 and operating primarily in the Durham region but often beyond, Team Chelsea started after a Bernese mountain dog named Chelsea, a senior citizen's sole companion, went missing from a daycare and was never recovered. The small group that tirelessly looked for Chelsea grew into a large and incredibly well coordinated team of dozens of volunteers who have reunited more than 5,000 dogs and 3,000 cats with their owners, working tirelessly with Parks Canada, animal control, veterinarians, and shelters.
The Facebook group where the animals, their sightings and updates, are posted is almost 50,000 members strong. Team Chelsea's priority is reuniting lost pets with their owners but sometimes the animals are never claimed, likely having been abandoned. After a month, Team Chelsea will put these unclaimed dogs, cats, and other species up for adoption.
With Thanksgiving upon us, I hope that you will consider donating to Team Chelsea's Animal Care Fund, in gratitude for the extraordinary and life- saving work that they do every day, reuniting lost animals with their owners and finding abandoned ones new and forever homes.
Free Resources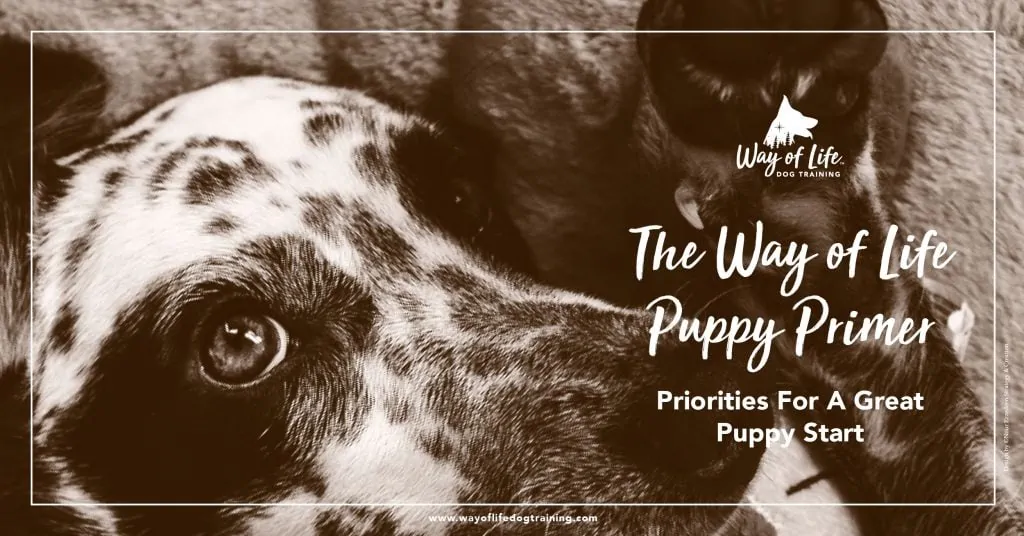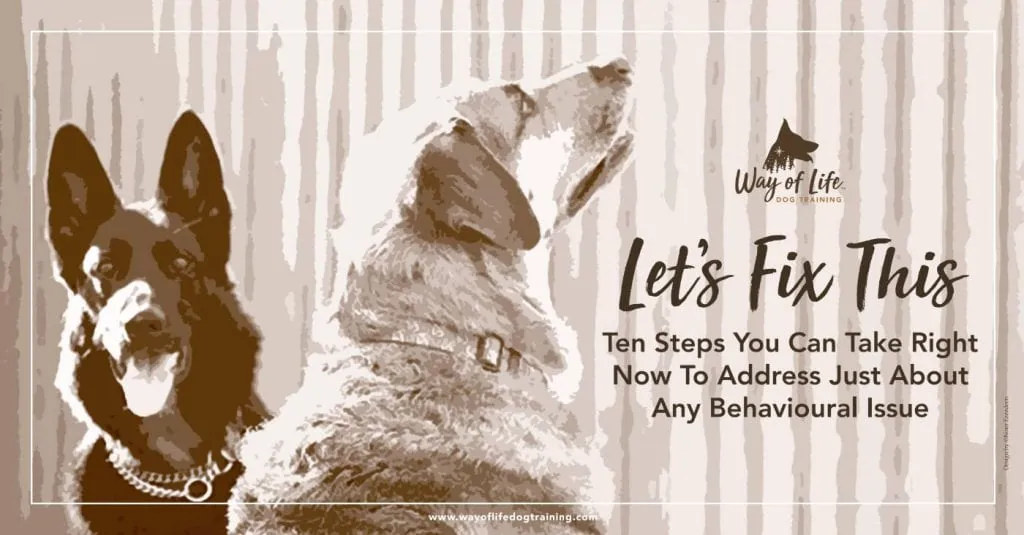 Find Us On Social Media


Is there a topic that you'd like me to cover in an upcoming newsletter or Facebook post? Please don't hesitate to email suggestions or questions to info@wayoflifedogtraining.com.
Do you want to know more about transforming your relationship with your dog? Way of Life™ Dog Training is here to help.