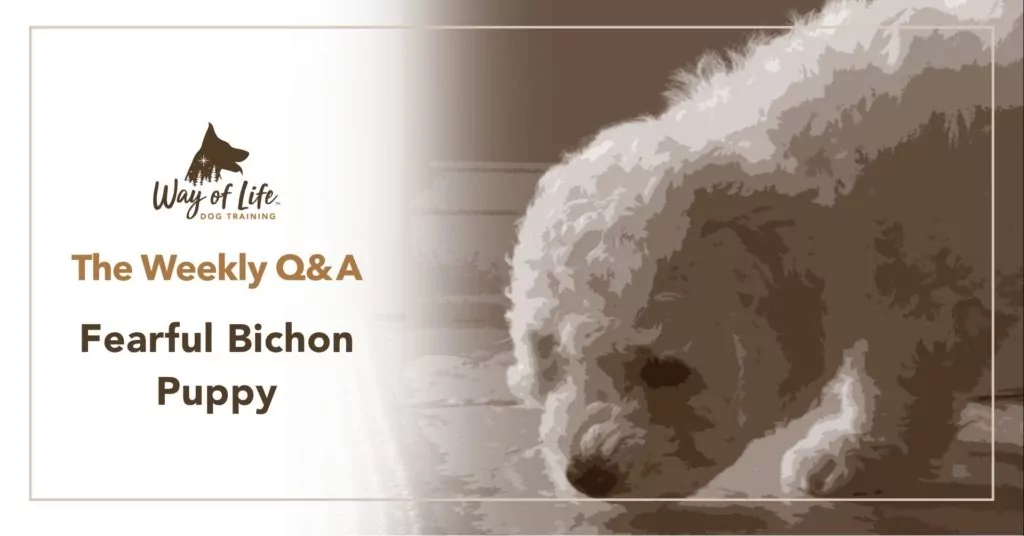 Q: My wife and I got a Bichon puppy that's four months old now. We're both working from home but eventually we'll have to go to the office and we need to train our dog to be fine with it. Also, it seems she's scared of everything and everyone. We're slowly trying to socialize her with more people and other dogs though it's hard to take her for walks, as she's scared and always wants to go back home. My wife and I work until 5:30 pm every day, we take breaks during the day to play with our puppy, but it doesn't seem to be enough. 
A: Thank you for reaching out to us about your bichon puppy. Sorry to hear that you've been experiencing challenges with her. Dealing with fear issues such as those you describe is probably not what you were expecting when you brought her home.
Unfortunately, scenarios of puppies exhibiting fear and withdrawal are common. To best deal with this and any behavior, the Way of Life™ Method examines the dog's life deeply and holistically in search of root causes. We know that dogs do what they do, not just because of breed, background, or other factors inherent in the dog, but because there are elements in the way of life, in their situation basically, causing them to behave as they do.
Here's the thing. Too often, we bring a new dog home and we include the dog in our home and family immediately. Meanwhile, dogs gain tremendous confidence being gradually, as opposed to quickly, included in their lives with us. Yet, people can't integrate their new puppies or dogs fast enough.
We also socialize our dogs with people and dogs beyond the household too quickly, without having a minimum of relationship foundations with our dogs. We're obsessed with this idea of socialization, without a good understanding of why we socialize in the first place or how to go about socializing.
The result is dogs reacting to things (fight) or wanting to withdraw from things (flight) – both are stress responses telling us we've done too much, too fast, and without enough bond with our dog to begin with.
In our approach, socialization follows in stages and it does not start with meeting new people and dogs. Rather, it begins with basic socialization between you and your dog on your property and in quiet places.
In these early stages, we have the dog on a predictable schedule, with time apart from us and contained, and time with us. By doing things gradually, you will boost your dog with the kind of confidence she needs to not only go out in the world but to also sustain being alone at home when you're back at the office. You will be amazed what it does for a dog to be provided with simplicity, structure, and a little patience to come around.